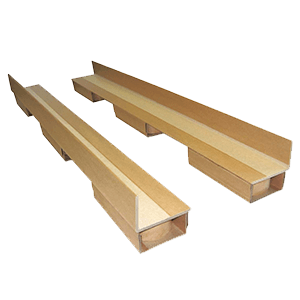 EDGERUNNER®
A combination of edgeboards and PallRuns®, is a new 4-way pallet alternative.
It can replace traditional pallets such as wooden pallets or plywood pallets and also optimises the use of material and space; you will be able to load more and get all the benefits of strong sustainable packaging. Use it with corrugated boxes, shop displays, with a top board or directly under your product.
This combination of PallRun® and edgeboard is an excellent, cost-effective alternative for replacing standard pallets. EdgeRunner® can be placed directly under a box, shop display or other application.
Different height options maximize space use, which allows you to load more. The advantages are:
Space optimisation
Single-material packaging solution
100% carton board
Self-adhesive option
Simple assembly
Accepted anywhere in the world without treatment or restrictions